We design and produce five different systems for doors.
Systems for doors in steel and aluminium frames: slidable, hinged, tilt, folded, sliding-folded, sloping, wicket and hanging.
1. system of steel sliding and tilt frames 3 types
2. system of aluminium sliding and tilt frames 2 types
3. mikra type system
4. suspension system
5. sliding-folded and folded system
"Mikra" type system
Sliding-folded system
1.
Doors can slide in both directions. Example of installation where the doors work inside the box. Sides and panels are exposed.
2.
Wider installation - 2 sets of doors. Upon opening there is access to the whole wardrobe! Upon closing the doors are in one line. There are no overlaps.
3.
Top track for a shelf.
4.
In the case of even surface the system can be mounted directly on the substrate.
5.
Doors cover bottom and top panel. Recommended for aesthetic reasons.
6.
Corner installation
7.
Combined installation.
- For the left doors 1 set of system is fitted - doors slides.
- After fitting right doors we slide the left doors.
- When closed doors are in one line..
Download files
1. Mounting manual for MGT hanging doors.
Includes description with technical drawings.
2. Mounting manual for hanging doors.
Includes description of doors mounting method with technical drawings.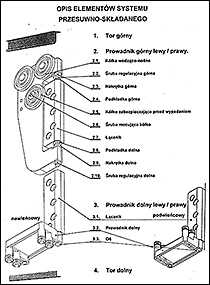 Sliding-folded system
elements description

_ (more)