MGT TECH Ltd. was created in spring 2011 thanks to years of technical and production experience of the founders and employees.

Company produces details and technical components for furniture making, automotive and electrical industries.


We specialise in

Designing and producing sliding doors, driving systems for wardrobes and furniture accessories.
Manufacturing details and mechanical components made from metals and plastics and galvanic coatings.
Complex finishes and fittings for public and industrial buildings.
Manufacture of furniture to order, furniture installation at clients site, refurbishment and building works within the scope of interior finishing.




Our team designs and manufactures driving systems for wardrobes with sliding doors since 1996. We participated in projects on systems for all major companies from industries, e.g.: Komandor, Indeco, Senator, Sevroll, Libella, IDI, Stanplus.
We have extensive experience in the given filed of furniture making industry and potential to develop new solutions.

We participate in designing and developing new solutions according to our clients' needs.


a. we manufacture doors in steel and aluminium frames.
b. standard doors of different dimensions in frames in silver and olive or champagne colours.
c. doors to order in any dimensions and any infill (furniture laminated board, mirror, lacobel, rattan etc.)
2. Systems for doors in steel and aluminium frames, slidable, hinged, tilt, folded, sliding-folded, sloping, wicket and hanging
3. Hangers and bins for wardrobes.
4. Elements for the fixture of bathroom heaters
We seek new solutions for designing and production of new products, long-term cooperation. In return, we offer complex, high quality technological solutions with optimised costs.
Our motto:
We work to meet our clients' requirements and needs and to be for them a reliable business partner.


MGT TECH Ltd.
ul. Świetochowskiego 3/187
01-318 Warszawa
Poland
Factory and office
ul. Warszawska 49/51
05-820 Piastów
Poland
phone +48 501 557 416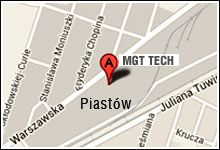 We supply for the following shops: Bricoman, Nomi